6.+7.10. zu Gast:
Das ist Anita Keckeis. Sie kommt eigens aus dem Vorarlberg, um uns ihre ungewöhnlichen Kreationen zu zeigen.
Wir sind wieder mit Herz und Verstand bei der Arbeit
Herbst 23/24
Ich widme meine Kollektion diesen Herbst der Leichtigkeit, die sich in vor allem in der Farbwelt ausdrückt.
An den Handstrickmaschinen in Berlin, bei Strickchic in Apolda und bei Karla in Slowenien sind lauter fleissige Menschen am Werk, um für euch nachhaltige, schöne Kleidungsstücke zu fertigen.
Immer aufregend, ob alles klappt. Wir wollen unbedingt nicht fehl-oder überproduzieren.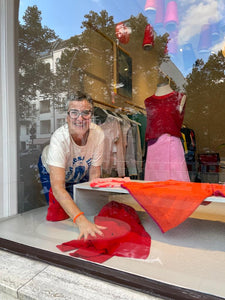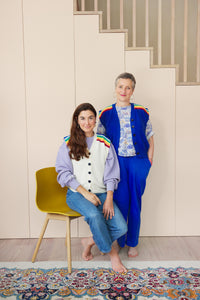 Janine Dudenhöfer and me
lillimendelssohn and The Sustainable Stylist
Die Berlinerinnen Janine Dudenhöffer (links) und Lilli Mendelssohn (rechts) teilen die Liebe für Mode, Individualität und nachhaltige Qualität. So verwundert es nicht, dass sich die beiden zusammengetan haben, um eine LIMITED EDITION zu kreieren, die flexibel einsetzbar ist und vielen Menschen Freude bereitet. 
In Apolda fangen die Maschinen im August an zu stricken. Ende August könnt ihr die Weste hier bestellen oder im Geschäft in Berlin probieren...
Wir haben eine keine Auswahl im Geschäft und bieten die Schmuckstücke ohne Gewinn an, damit das Geld direkt und unkompliziert zu den Frauen gelangt.
KUNSTHANDWERK DER HUNI KUIN FRAUEN
Kunst ist ein wesentlicher Teil der indigenen Kultur und gehört zumAlltag. Es gibt keine Trennung zwischen alltäglichem Lebenund Kunst. Zu den weiblichen Traditionen gehören u.a. die Herstellung von Glasperlenschmuck, die Weberei, Töpferei und das Flechten von Stroh zur Herstellung von Körben und Matten.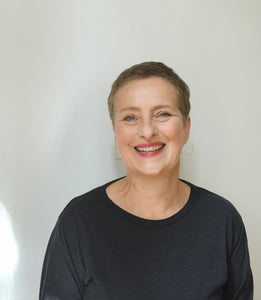 Lili Mendelssohn
My Why
For me, developing a collection is like telling a story. An imaginative way, like traveling through different times and to many places. For me, thoughts do not find their form in letters, words, or sentences; they find their thread, their colors, their form in garments.
Instagram
Wenn ihr Lust auf mehr lillimendelssohn habt, folgt uns gerne.